Trip Reports
God is faithful and we always have many stories to tell of how He moves. More coming soon!
My journey to Uganda was not planned. I had been arranging a trip to another country, but it was not working out. God spoke to my heart about Uganda, then a request came from a pastor to speak at their conference. The Lord provided the funds, so off I went!
My first stop was in the town of Gayaza, where my friend, Pastor Maria lives with her family. I spoke at their Sunday service and prayed for several people corporately and privately. I was also able to get a few days of much-needed rest.


Congregation at Gayaza
Accompanied by five people from Gayaza, we arrived at Angarom a day later than expected, but the people were waiting. They were jubilant as we finally reached our destination. It's a farming community where they grow rice and other foods. But they are very poor and have large families.
Pastor Charles had invited me to speak at their conference which was held under a tree. They normally gathered there because there was no money to put a roof on the building that had been constructed. I was the only scheduled speaker for four days, so team members, Pastor Maria and Evangelist Livingstone took sessions also. Another team member taught the children. It was a wonderful time together. They love to sing, dance and rejoice even with chairs over their heads. The people, who were from various congregations, appreciated the teachings and many people came forward for prayer.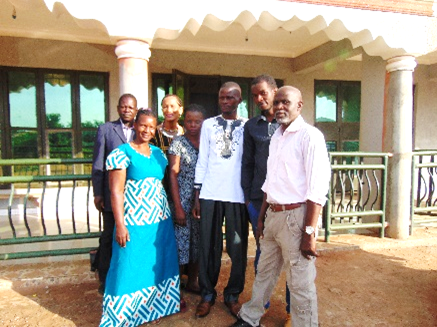 Our team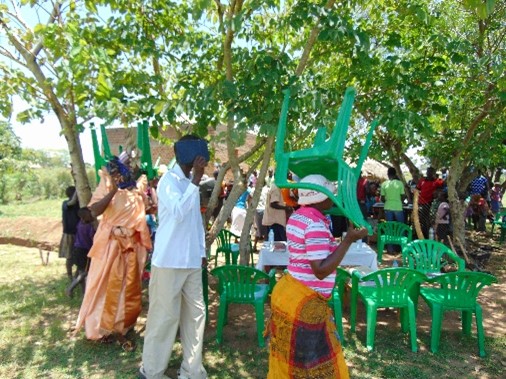 People dancing with their chairs;
Below: Scenes from the outdoor conference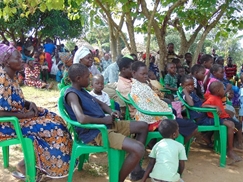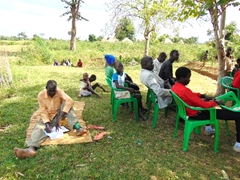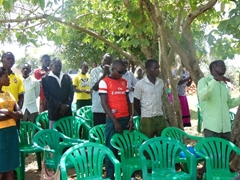 Seven children and four adults prayed to receive Jesus Christ as their Savior. Some were healed by God's power – a lady who had chest pains, a man whose entire body was in pain.

A roof over their heads
God provided funds to purchase 2 pieces of tarpaulin to make a temporary roof for the building. Team member, Moses works in construction and he supervised that project. They did a very professional job. Our Sunday service was held in the building.
From Canada …to Uganda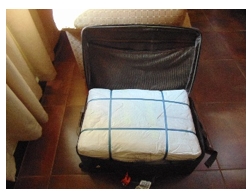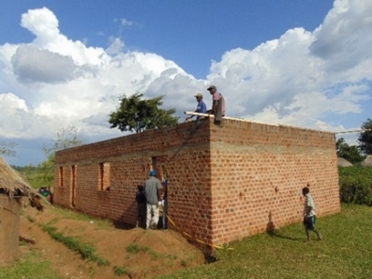 Left: the tarpaulin in my suitcase; Right and below: The building project

 Evangelist Livingstone testified that the Lord healed his arms while he was helping to pull ropes to secure the tarpaulin. His arms had been injured in an accident and were weak, but he felt that he should do something to help with the project. He demonstrated with a few push-ups which he could not do before.
Below: Sunday service in the new building: - Left: Congregation worshiping the Lord; Right: Angela receiving a turkey as honorarium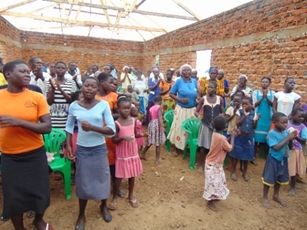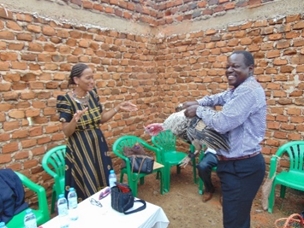 Pastor Charles wrote the following:
"I greet you in the name of the most high God. Thank you for the message you preached. It has changed my life and lifted up my faith. The message touched most of the congregation and they are now giving testimonies. I pray God touch your heart to come to Uganda again next year. In fact, your being in Uganda last time has become a blessing to our ministry. God has done something wonderful in our church. When you come to Uganda next year, you will also glorify God for what He has done for us. People have seen many changes through the Gospel you preached. Thank you."
Pastor Charles O.

People ask, "Do they [the people overseas] send you your ticket?" The answer is, "No". I go to places where they cannot afford to send me a ticket or pay for accommodation. I am thankful for those who give financial donations to be able to go and teach the nations as Jesus commanded.
Turkana is the poorest county in Kenya. Even Kenyans do not usually go there because of the harsh conditions. It is extremely dry, and they experience constant, severe drought. But God is at work among this marginalized people group. Many of them who are educated and trained in various skills are returning to help their people. I spoke at Sunday services and a seminar at two churches in the main town of Lodwar.

The main event in Turkana was the seminars for pastors and leaders in the town of Kakuma, where are two large refugee camps. It was a very fruitful time, although strenuous. I taught seven sessions in two days. The seventy-one registered attendees were attentive and participated well. My host, who is the District Superintendent, and the Women's Director also taught one session each. We were blessed with the music of Evangelist Sammy, a well-known musician who joined our team. FOTWM donors provided money to purchase four bicycles for pastors who labor in rural areas.

We held a special service in the village of Nameyana. It was my third time there. FOTWM purchased packages of cornmeal and beans which we distributed after the service. The people were very grateful.  
In Nairobi, I ministered at a special healing and deliverance service at King Worship Center. God had moved so powerfully in January that they requested another service. God healed individuals of headaches, knee pains and other problems. Some were set free from demonic oppression. To God be the glory!
JEHO Children's Home
At the home for abandoned and vulnerable children which we support, I taught at their Bible study. It was great to see them again. With donations from supporters, I was able to go shopping with Pastor Miriam and purchase supplies that they needed. We also paid their electricity bill which was due, and left money to fix the chicken coop.